Months after first launching in international markets, Sony's new triple-tier PlayStation Plus subscription has this week arrived in Australia, putting the service in indirect competition with Microsoft's highly-praised Xbox Game Pass and upping the value for PS4 and PS5 owners. In case you aren't already familiar with one of Microsoft's proudest achievements to date, it's basically the Netflix of gaming, offering up a stacked and curated library of video games that can be downloaded to the console or streamed via the cloud. With three PS Plus tiers – topped by PlayStation Plus Deluxe – Sony has essentially mirrored the service, opening console gamers up to a very generous swathe of older games from just every PlayStation console in history.
How generous? If you're going for the PlayStation Plus Deluxe then you're looking at almost 800 games from the entire PlayStation library – that includes classic titles from the original PlayStation, PlayStation 2, and the PSP portable console. Step down to the second tier, the PlayStation Plus Extra, and you're still getting a tremendous catalog of up to 400 games selected from PS4 and PS5 as well as the PlayStation Studios program and some third-party partners.
Since Xbox launched the Game Pass, PlayStation has been lightly competing with the PS Now service, which offers a similar spread of older games from previous generations to stream or download. The PS Plus Deluxe obviously absorbs this, acting as something like a hybrid between the previous form of PS Plus and the separate PS Now subscription.
---
---
RELATED: 'Gran Turismo 7' Is As Real As It Gets
The standard tier, PlayStation Plus Essential sounds like it's just the PS Plus that most Sony gamers are used to by now – a $79.95 annual subscription that nets you monthly-rotating PS4 and PS5 games, online multiplayer access, discounts, cloud storage and more benefits . Note that all current PlayStation Plus members will be automatically shifted over to PlayStation Plus Essential. Those who want the higher tiers will need to jump on and make the upgrade manually.
There's an important distinction to make between the Xbox Game Pass and the comparable PS Plus Deluxe. The former reinvents the entire Microsoft sales model, even going so far as to include new titles that are released on the subscription service immediately. This is the primary reason Game Pass has been such a big deal since the Xbox Series X|S launched, and one of the reasons Xbox has finally caught up with Sony.
Meanwhile, it doesn't look like Sony is budging on new first-party titles. These new games will still be released as separate purchases regardless of whether or not you've got the PlayStation Plus Deluxe service, which in Australia can run you $154.95 annually (or $21.95 monthly).
While that's disappointing, it's still a nice and reasonable price point for Sony's new pinnacle subscription offering, affording gamers all the benefits of the lower tiers (including online multiplayer access) as well as that aforementioned bank of almost 800 legacy games. This could range from good (Tekken 2) to dumb (Ape Escape).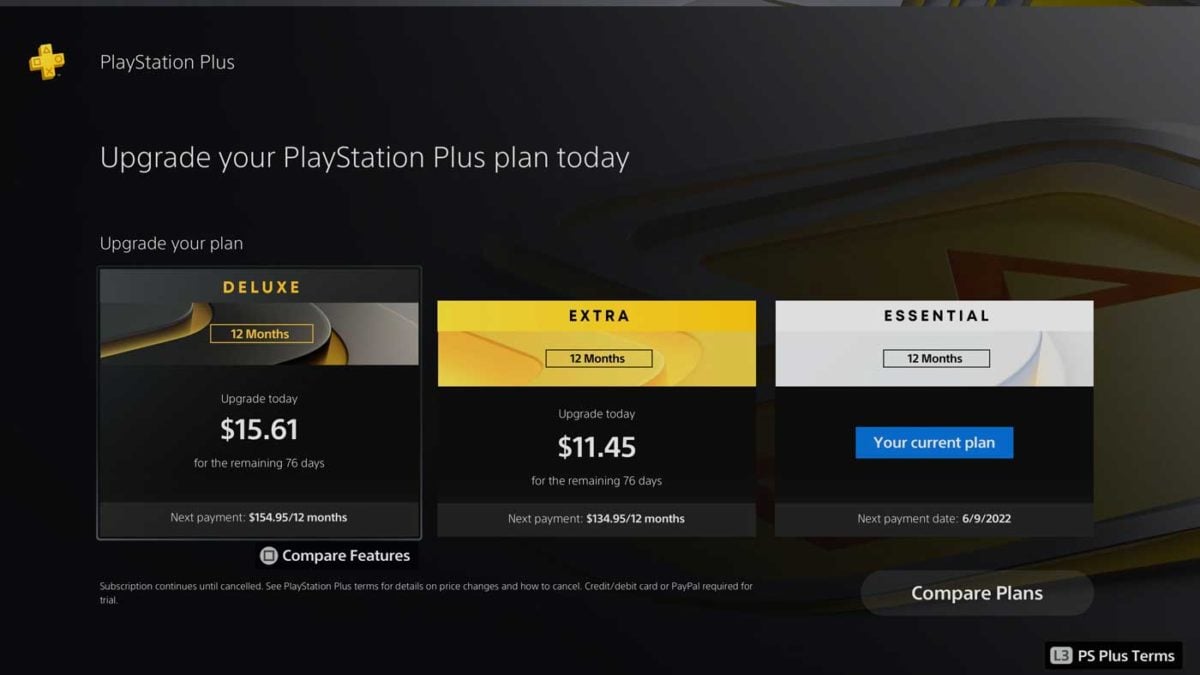 Here are the details for all three of the new PlayStation Plus tiers.
PlayStation Plus Essential
Advantages: Provides the same benefits that PlayStation Plus members are getting today, such as PS4 and PS5 monthly games, online multiplayer access, exclusive discounts, cloud storage and more. There are no changes for existing PlayStation Plus members in this plan and pricing remains the same.
---
---
Price: $11.95 monthly / $33.95 quarterly / $79.95 yearly
PlayStation Plus Extra
benefits: Provides all the benefits from the Essential plan and adds a catalog of up to 400 of the most enjoyable PS4 and PS5 games – including hits from the PlayStation Studios catalog and third-party partners. Games in the Extra plan are downloadable for play.
Price: $18.95 monthly / $54.95 quarterly / $134.95 yearly
PlayStation Plus Deluxe
Advantages: Provides all the benefits from Essential and Extra plans and adds additional games, including a catalog of beloved classic games from the original PlayStation, PlayStation 2 and PlayStation Portable generations. Also includes time-limited game trials so customers can play select games before they buy.
Price: $21.95 monthly / $63.95 quarterly / $154.95 yearly