New images of an iPhone 14 Pro case fitted on an iPhone 13 Pro give us our best look yet at potential design changes for the camera lenses, flash, and LiDAR scanner on Apple's upcoming high-end iPhone.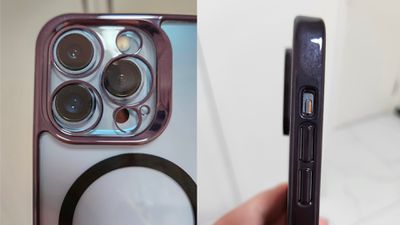 The image of the case, shared on the Korean blog Naver by the account "yeux1122" reveals significantly larger camera lenses on the back on the upcoming ‌iPhone 14 Pro‌. Attempting to fit the case designed for the ‌iPhone 14 Pro‌ onto an ‌iPhone 13 Pro‌ shows that each camera – the Wide, Ultra Wide, and Telephoto lenses – will grow in size. As a result, the flash and LiDAR scanner will also shift their positioning according to the images.
Past images of iPhone 14 Pro cases and dummy models have revealed that Apple is planning a more prominent camera bump on this year's ‌iPhone‌. The larger camera lenses and the more protruding camera array on the back result from several new camera features expected. Most notably, Apple is expected to include a 48MP wide camera in this year's "Pro" ‌iPhone‌, as well as improvements to low-light photography and possibly 8K video recording.
Another image shared in the same post shows that the volume buttons and the volume switcher will move slightly higher on the upcoming ‌iPhone 14 Pro‌. Overall, leaked schematics of the upcoming ‌iPhone‌ earlier this year revealed a somewhat heavier and thicker design, thanks to a larger battery and bolstered camera hardware.
Apple will announce four new models of the iPhone 14 lineup this Wednesday during an event with the tagline "Far out," including the ‌iPhone 14‌, the ‌‌iPhone 14‌‌ Plus, the ‌‌iPhone 14 Pro‌‌, and the ‌‌iPhone 14 Pro‌‌ Max. Alongside new iPhones, Apple is expected to reveal the Apple Watch Series 8, a new Apple Watch SE, and an all-new Apple Watch "Pro." The second-generation AirPods Pro are also rumored to appear during the event.
Related Stories
iPhone 14 Pro Getting Massive New Camera Bump
Apple's iPhone 14 Pro models are set to get an even larger rear camera array, according to several recent reports. iPhone 14 Pro concept render by Ian Zelbo based on purported leaked information Apple has gradually increased the size of the iPhone's rear camera housing over time as the device has transitioned from a small, flush single Wide lens on the iPhone 5S to a large, square, …
Third-Party Cases for iPhone 14 Lineup Highlight Design Tweaks, Larger Pro Camera Bump
Images of cases for the entire iPhone 14 lineup were shared today, reinforcing expectations about the design refinements coming to this year's new iPhone models. The images, shared on Weibo and highlighted by "DuanRui" on Twitter, depict ultra-slim third-party cases for the 6.1-inch iPhone 14 and iPhone 14 Pro, and 6.7-inch iPhone 14 Max and iPhone 14 Pro Max. Although one of the devices is…
iPhone 14 Pro Renders Highlight Multiple Design Changes
Leaker Jon Prosser today shared ostensibly accurate renders of the iPhone 14 Pro, providing the most accurate look yet at what the device could look like when it launches later this year. In the latest video on YouTube channel Front Page Tech, Prosser revealed renders of the iPhone 14 Pro made by Apple concept graphic designer Ian Zelbo, highlighting a range of specific design changes…
Camera Upgrades for All iPhone 14 Models: Everything We Know
The iPhone 14 and iPhone 14 Pro models are rumored to feature several important camera upgrades. Unlike color option rumors, reports about upcoming iPhone camera technology tend to be fairly accurate, with camera component supply chains often revealing specific information well ahead of the device's release date. iPhone 14 concept render by Ian Zelbo based on purported leaked information In…
Don't Buy an iPhone 13 Pro Right Now: 'iPhone 14 Pro' Models Imminent
The iPhone 13 Pro and iPhone 13 Pro Max are expected to be replaced by the iPhone 14 Pro and iPhone 14 Pro Max at an Apple event as soon as next month, meaning most customers should hold off on purchasing a new iPhone until then. The iPhone 14 Pro models are expected to headline with features such as thinner bezels and a "pill and hole-punch" TrueDepth camera array design in place of the…
Try Out the iPhone 14 Pro Pill-Shaped Display Cutout on Your iPhone Right Now
The iPhone 14 Pro is expected to mark the beginning of the end for the notch on the iPhone, as it's expected to feature a pill-shaped cutout at the top of the display. While we may be only days away from the launch of the new ‌iPhone‌, some users might be interested to get an early feel for what the new cutout will look like in person, and now you can do just that. Despite plenty of…
Five iPhone 14 Rumors You May Have Missed
With August upon us, the countdown is officially on. We're just weeks away from when we're expecting Apple to announce the iPhone 14 lineup. Rumors of the next iPhone start early in the year, and as a result, some details about the upcoming device sometimes get lost in the crowd. Exclusive MacRumors iPhone 14 Pro renders by graphic designer Ian Zelbo To help MacRumors readers, we've created a …
iPhone 14 Pro Expected to Feature Larger Battery Alongside Always-On Display
The iPhone 14 Pro and iPhone 14 Pro Max will feature physically larger batteries, according to Bloomberg's Mark Gurman, likely to compensate for the increased power consumption of an always-on display. In his latest Power On newsletter, Gurman says he expects the new iPhone 14 Pro and iPhone 14 Pro Max to feature larger batteries and the devices will, as a result, appear "slightly larger…
Popular Stories
iPhone 14 Pro's Always-On Display Behavior in iOS 16 Allegedly Revealed Days Ahead of Unveiling
The iPhone 14 Pro will feature unique behavior on the Lock Screen and significant changes to the status bar thanks to its always-on display, according to a source that spoke to MacRumors. The source behind the latest wave of information was responsible for the bombshell leak earlier this week that claimed the iPhone 14 Pro's display cutouts will appear to have a single, unified "pill" at…
AirPods Pro 2 Charging Case With Three New Features Shown in Leaked Renders
A new charging case for the upcoming second-generation AirPods Pro could feature speaker holes, a microphone, and an opening for a lanyard attachment, according to alleged CAD renders of the case shared by AppleInsider's Andrew O'Hara on Twitter. Alleged CAD of AirPods Pro 2 charging case shared by Andrew O'Hara O'Hara said he could not verify the accuracy of the renders, but they do line up…
How Apple Watch Series 8's Body Temperature Feature Is Expected to Work
Body temperature sensing technology is believed to be the headline upgrade offered by the Apple Watch Series 8 when it debuts at Apple's "Far out" event next week. Thanks to a variety of reports from reliable sources, we have a fairly good idea of ​​how the body temperature health features are expected to work. The Apple Watch Series 6's rear sensor array that introduced blood-oxygen sensing. …
Video Claiming iPhone 14 Pro Users Will Be Able to Customize Pill-Shape Cutout Unlikely to be True
A viral video on Twitter claims that on the upcoming iPhone 14 Pro, Apple will let users choose between a single large pill-shape cutout or one pill-shape and one hole-punch design at the top of the display to replace the notch. The video, although possibly convincing, is unlikely to be true. The iPhone 14 Pro and iPhone 14 Pro Max are expected to include two physical holes at the top of the …
Top Stories: 'Far Out' Apple Event Preview With iPhone 14 and Apple Watch Pro Rumors
September is here, and you know what that means: new iPhones and Apple Watches! Apple's upcoming media event was naturally the focus of attention this week, with last-minute rumors shaking up some of our expectations. In addition to iPhone and Apple Watch rumors, we also saw signs that Apple is moving toward launching updated iPad Pro models (though next week's event might be a bit soon for…
Verizon to Offer Apple One For Free With Eligible Plan Alongside iPhone 14 Launch
Verizon plans to become the first US carrier to include Apple One as a free perk with an eligible plan alongside the launch of iPhone 14 models later this month, according to information obtained by MacRumors from a carrier source. Apple One will likely be included with Verizon's most expensive "5G Get More" unlimited data plan, which costs $90 per month for one person. The fully-loaded…
.