Acer has established itself as a key player in the gaming peripherals segment thanks to very attractive price-quality ratios for consumers.
In addition to advantageous prices, the brand manages to integrate the latest technologies into its products, and its monitors are the best example of this. Here we present three Acer back-to-school gaming monitor models that caught our eye, and there's something for every budget.
Acer ED270RP: a curved screen at a low price
This gaming monitor is equipped with a screen of 27 inches in 16:9 format. The VA matte panel displays a Full HD 1080p definition and benefits from a refresh rate up to 165Hz for unparalleled fluidity of the image. Acer has also integrated the technology AMD FreeSyncwhich allows the monitor to calibrate itself to the performance delivered by the computer or console in order to avoid tearing and image skipping.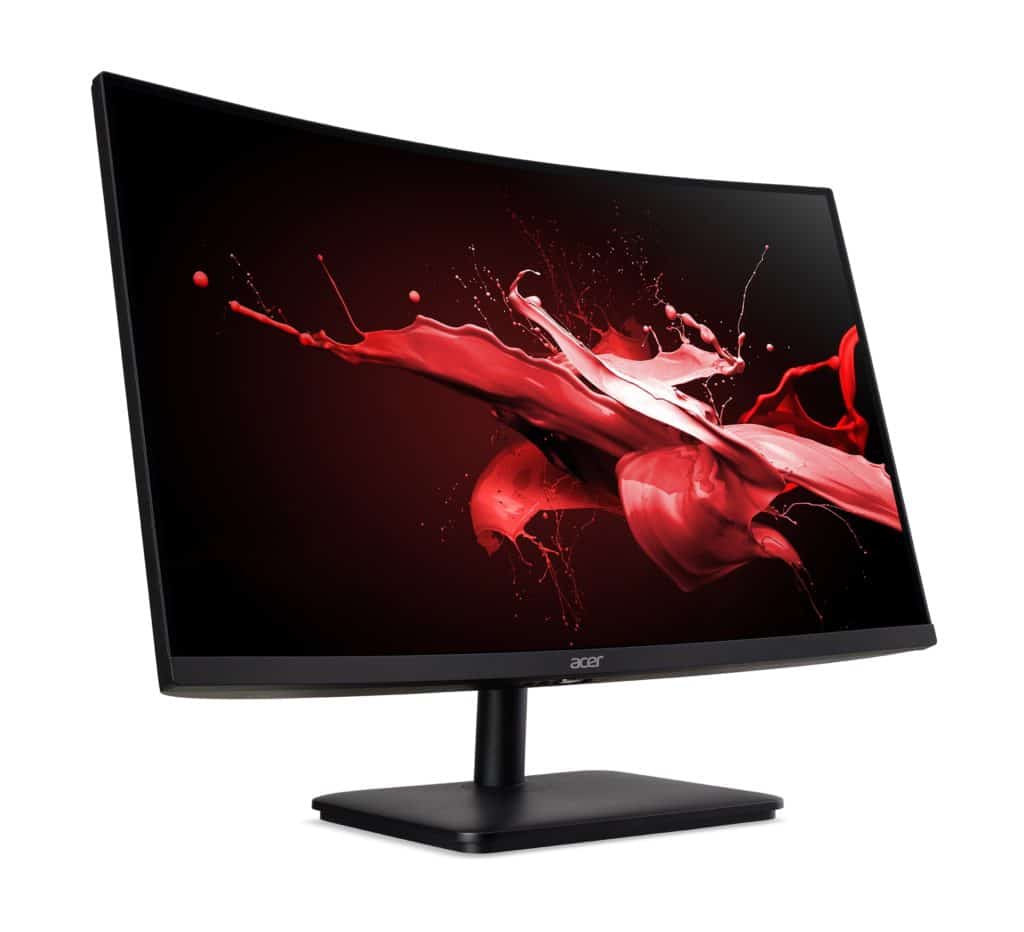 For better immersion in the action and increased visual comfort, the Acer ED270RP screen is curved in a 1500R bend and is surrounded by very discreet borders. The manufacturer has bet on ergonomics by leaving the possibility for the user to tilt at their convenience between -5° and 20°. Regarding connectivity, the screen is well equipped with two HDMI 2.0 ports, a DisplayPort 1.2 socket and a 3.5mm jack for audio.
The monitor also embeds a number of Acer's proprietary technologies, including BlueLightShield, which allows flexible adjustment of the amount of blue light emitted by the screen to reduce eye strain. We can also cite the Flicker-Less, whose role is to maintain a constant light level and of remove flicker effects which can be annoying. We also have Low Dimming available on this model, a system that modulates screen brightness based on ambient light, like on our smartphones. Finally, the monitor benefits from ComfyView, a anti-reflective technology which also improves color brilliance.
The Acer ED270RP gaming monitor is currently the subject of a reduction of 60 euros at Fnac. His price is down from 259.99 to 199.99 eurosa very interesting price for a screen offering such benefits.
Acer Nitro VG240YS: an ever shorter response time, without breaking the bank
The Acer Nitro VG240YS bets on a screen of 24 inches of IPS technology. It delivers 1920x 1080 pixel image quality and has a 144Hz refresh rate. The monitor can however be overclocked to gain performance and reach 165 Hz. Like the Acer ED270RP, this model is compatible with theAMD FreeSync to synchronize in real time the frequency of the panel with the number of frames per second calculated by the GPU, which results in a more pleasant screen action.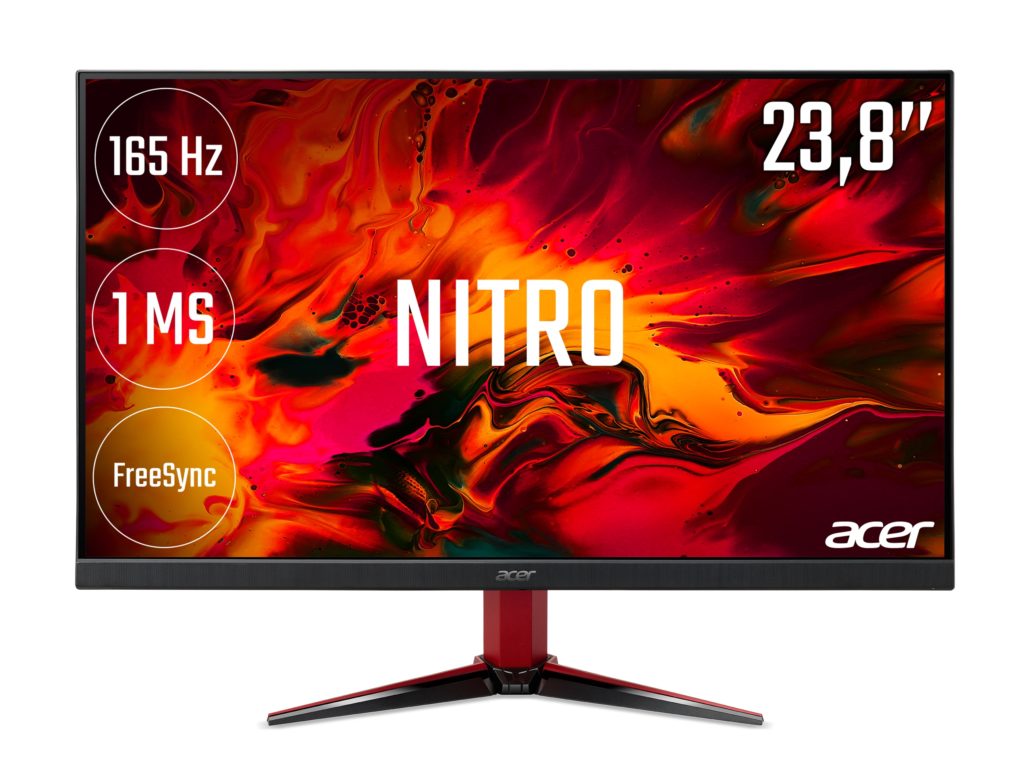 The great strength of this product is its response time of only 1 ms, a rare feature on a monitor marketed at an affordable price. Thanks to this ultra-short response time, blurring or ghosting effects are greatly reduced and the images stay sharp, even when the scenes follow each other quickly. This is particularly beneficial in racing simulation games and FPS, which can require a large number of actions in a short time.
Acer Blue Light Shield, Acer Flicker-less, Acer Low Dimming and Acer Confyview technologies that we detail above are also part of the game. If the Acer Nitro VG240YS is right for you, it's a good time to invest since it's posted at 229.99 euros at Darty, instead of 249.99 euros.
Acer Predator XB273U: the premium experience
We end this selection with a high-end monitor, in the person of the Predator XB273U. We are dealing here with a screen equipped with a 27 inch IPS panel with ultra-thin edges on 3 sides and displaying an image definition 2560 x 1440 pixel WQHD. You will also be able to achieve extreme fluidity ranging up to 144 Hz via HDMI port and up to 165 Hz via DisplayPort. It's a perfect solution for gaming in one of gamers' favorite settings: 1440p at 144/165Hz.
And that's not all the Predator XB273U has in store for us when it comes to good display surprises since we also have an extremely low response time of 0.5 ms minimuma beautiful brightness of up to 400 nits and the 90% coverage of DCI-P3 color space with 16.7 million colors supported. To top it off, we have the right to compatibility with technology NVIDIA G-SYNC to eliminate picture jerks.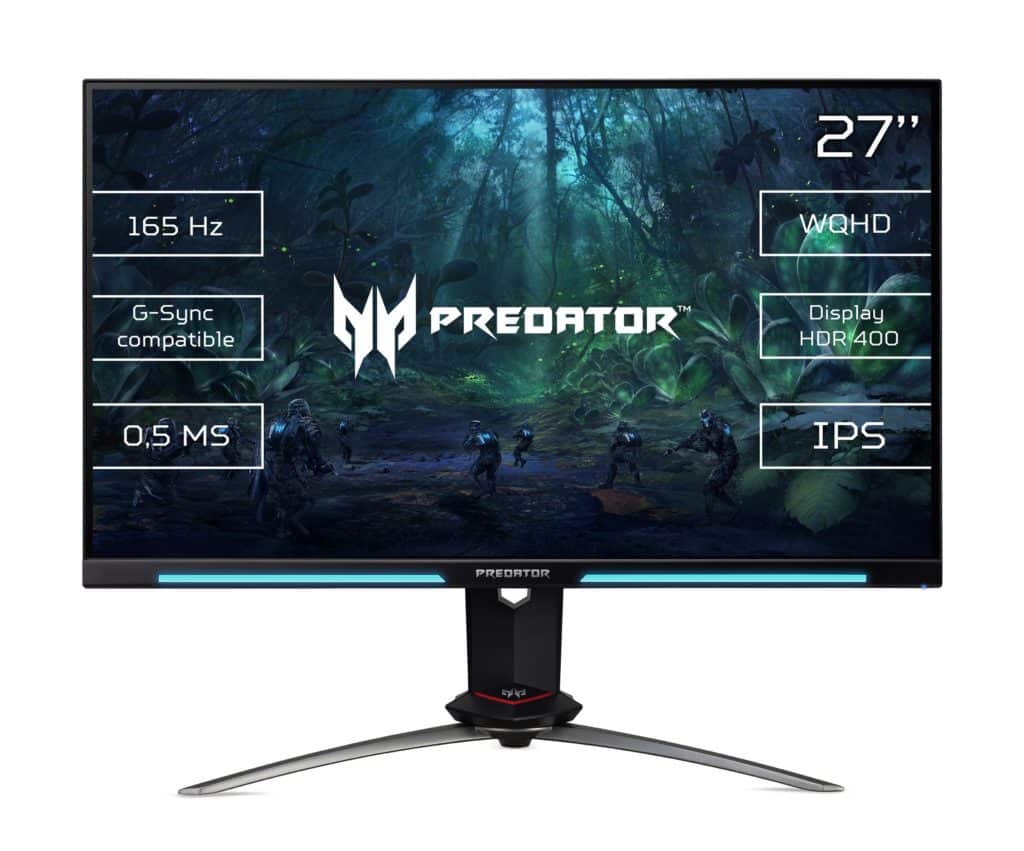 In addition to the HDMI 2.0 (x2) and Display Port 1.2a (x1) ports, we find a headphone jack and a USB hub with two USB 3.0 ports. On the audio side, be aware that the monitor incorporates its own speakers.
The design is well thought out for player comfort, with a ergonomic stand that rotates 90° for viewing in portrait or landscape mode. We also appreciate the possibility of adjust the height to 115 mm and the inclination to an angle of 20° : the monitor adapts to your position!
The Predator XB273U is in stock at LDLC at the price of 519.95 euros.
This article was written in partnership with Acer.